A 7 night Private Luxury Tour to Scotland

Experience Scotland in Luxury and Style. This special 7-day private tour of Scotland combines luxury hotels with private visits to immerse you in the culture and heritage of Edinburgh and the Highlands.
Tour Highlights
Private Walking Tour of Edinburgh
Edinburgh Castle
Private Cruise on Loch Ness
Urquhart Castle
Glenmorangie Distillery Private Tour
Harry Potter Steam Train
The Isle of Skye
Glamis Castle
The Highlands of Scotland
Day 1
Arrival Transfer Edinburgh
Upon arrival in Edinburgh, you will be met by your driver/guide holding a sign with your name on it and privately transferred to your hotel. Check in and enjoy the rest of the day at leisure.
Edinburgh is Scotland's compact, hilly capital. It boasts a medieval Old Town and elegant Georgian New Town with gardens and neoclassical buildings. A visit to Edinburgh wouldn't be complete without visiting Edinburgh Castle which looms over the city, home to Scotland's crown jewels and the Stone of Destiny, used in the coronation of Scottish rulers.
2 nights at The Kimpton Charlotte Square in a Premium King Room inclusive of breakfast.
The Kimpton Charlotte Square Hotel blends traditional glamour with the Scotland of today in the heart of the New Town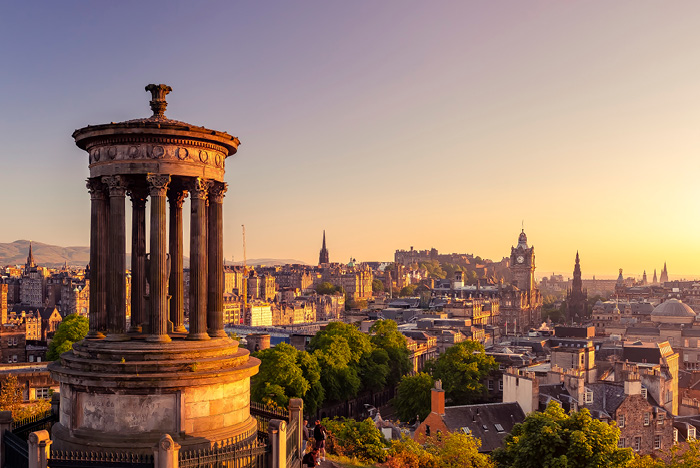 Day 2
Edinburgh Walking Tour
Your tour, with an expert local guide, will explore the city's main attractions on or around the Royal Mile including The Palace of Holyroodhouse, The Scottish Parliament and of course Edinburgh Castle. Entrances are included to Edinburgh Castle only to allow for flexibility.
Edinburgh Castle
Edinburgh Castle is one of the most exciting historic sites in Western Europe, Set in the heart of Scotland's dynamic capital city it is sure to capture your imagination. The scenery will take your breath away. Standing on its great rock, Edinburgh Castle dominates Scotland's capital. Great events have taken place within its wall and it has witnessed many sieges. To control the castle was to hold the keys to the kingdom. Iron Age warriors understood the rock's military potential and built a hill fort here. The castle is now a worldfamous visitor attraction and a key element of the Edinburgh World Heritage Site.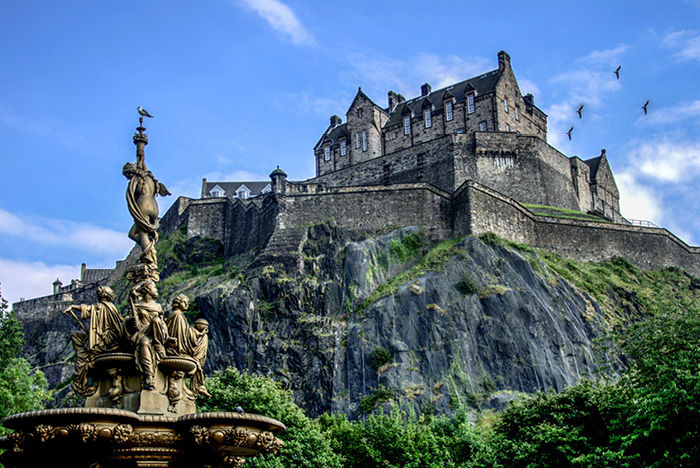 Day 3
Full Day Driver/Guide Services to St. Andrews
After breakfast, check out of your hotel and meet with your driver/guide for a full day. Travel East into the Kingdom of Fife and to St Andrews, where you will have time to see the Castle and the University and of course the Old Course.  You can enjoy an optional lunch along the way. In the late afternoon check into your hotel in St. Andrews for an evening at leisure.
St. Andrews: Standing proudly on the east coast and within half an hour from Dundee and less than two hours from Edinburgh and Glasgow, it's easy to explore this historic gem in the Kingdom of Fife. St Andrews, Scotland's world-famous Home of Golf, is known for its historic university, medieval streets and gorgeous traditional buildings. The town is filled with exciting things to see and do, from St Andrews Cathedral to nearby Scotland's Secret Bunker. Discover the town's fascinating past, explore its stunning surroundings and experience golfing history in the place where it all began -  and with 10 fantastic courses to choose from including the renowned Old Course, St Andrews is an unmissable experience for any golfer.
Overnight at Old Course Hotel in an Eden King Room inclusive of breakfast.
The Old Course Hotel is a prestigious 5* hotel which overlooks the famous links courses and the West Sands Beach
Day 4
Full Day Driver/guide Edinburgh To Inverness Via Glamis Castle And The Highland Chocolatier
After breakfast today, you will be met by your private driver/guide and depart St. Andrews. You will travel via Glamis Castle for an included visit before continuing along the whisky trail. Here we will include a stop at one of the distilleries for a tour and tasting. In the afternoon, you will arrive in the town of Inverness and check in to your hotel. The rest of the evening is free.
Glamis Castle has been the ancestral seat to the Earls of Strathmore and Kinghorne since 1372, inspiration for Shakespeare's Macbeth, the childhood home of HM Queen Elizabeth the Queen Mother, and birthplace of HRH The Princess Margaret. Expert guides will help you follow in the footsteps of Mary, Queen of Scots, James V, Bonnie Dundee, the Old Jacobite Pretender to the throne James VIII, the ill-fated Janet Douglas and of course tell the story of the bitter-sweet life of Mary Eleanor Bowes. The innovative Macbeth Trail, located in the Pinetum, was first proposed by Des Cotton, Head Gardener in conjunction with Tommy Baxter, General Manager. Neith Art and Sculpture, collaborative artists who work predominantly in wood, were commissioned to produce a series of seven sculptures. The Macbeth Trail at Glamis is sculpted from Oak, Douglas Fir and Noble Fir trees grown on the Estate. There is much to see at this magnificent estate and we highly recommend a visit here.
Private Tasting Flight at The Highland Chocolatier: Iain Burnet's creations have received over 40 awards, including twice Best Truffle in the World at the International Chocolate Awards, Gold from Academy of Chocolate, Triple Gold at the Great Taste Awards Private Tasting Flight At The Highland Chocolatierand twice Best Foodservice Product at Food & Drink Excellence. For yoru private tatsing your can choose from Dark Velvet and Fruit or Milk Velvet and Caramel ! YUM!
2 nights at Ness Walk in a Cedar King Room inclusive of breakfast.
An idyllic 5-star retreat hotel in Inverness, just 10 minutes from Loch Ness
Day 5
Private Loch Ness Cruise On Loch Ness And Local Sightseeing
This morning you will meet with your driver who will bring you to the boarding area (Urquhart Bay harbour which is 1 mile north of Drumnadrochit on the A82) for a private 1-hour cruise on Loch Ness. There will be plenty of photo opportunities so a camera today is a must! After the cruise, meet your driver and travel to Urquhart Castle for an included visit. Spend the afternoon sightseeing with your driver/guide. You can discuss options with him on the day. Return to Inverness for an evening at your leisure.
Private Loch Ness Cruise (1 Hour): Join the "Cluaran Dubh" and its skipper Gordon for a trip lasting approximately one hour and enjoy stunning views of the Great Glen, Loch Ness and the ruins of Urquhart Castle. On board, instruments monitor sub surface activity showing both bottom profile and mid water targets, which, although usually fish, are very very occasionally much larger and not readily explained. Fun Facts, Legends and History galore from your host Gordon as you enjoy the very best views from the Loch.
Urquhart Castle: Once one of Scotland's largest castles, Urquhart saw great conflict during its 500 years as a medieval fortress. Control of the castle passed back and forth between the Scots and English during the Wars of Independence. The power struggles continued, as the Lords of the Isles regularly raided both castle and glen up until the 1500s.The last of the government troops garrisoned here during the Jacobite Risings blew up the castle when they left. Urquhart's iconic ruins remain, offering glimpses into medieval times and the lives of its noble residents.
Glenmorangie Distillery Tour & Tasting: The water supply for Glenmorangie is very rich in minerals and this may account for the whisky's flavour, but then some will argue that the shape of the stills has more influence on flavour. This may indeed be true as the stills at Glenmorangie are among the tallest in Scotland and it is claimed that tall stills only allow the lightest spirits to pass. Glenmorangie was for many years the best-selling malt in Scotland.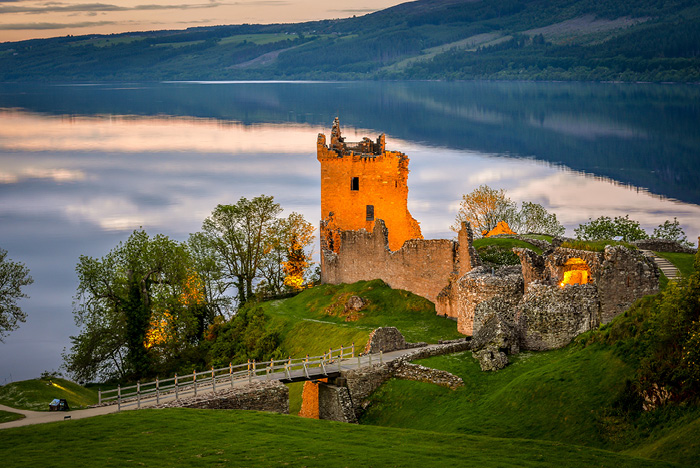 Day 6
Full Day with Driver/Guide to the Isle of Skye
This morning you will meet your driver/guide for a full day tour to the Isle of Skye. En-route you will see the most photographed castle in the world, Eilean Donan. The island of Skye, connected to Scotland's northwest coast by bridge, is known for its rugged landscapes, picturesque fishing villages and medieval castles. The largest island in the Inner Hebrides archipelago, it has an indented coastline of peninsulas and narrow lochs, radiating out from a mountainous interior. Spend the afternoon exploring the wonderful Island and the spectacular scenery.
Isle Of Skye. Your driver/guide is at your disposal today for sightseeing on the island, perhaps choose between fly fishing, a cookery class,  there are many options available and we would be happy to arrange any of these in advance.
Overnight at Kinloch Lodge in a Sea View King Room inclusive of breakfast.
Kinloch Lodge is a historic destination hotel and restaurant on the Isle of Skye off the north west coast of Scotland.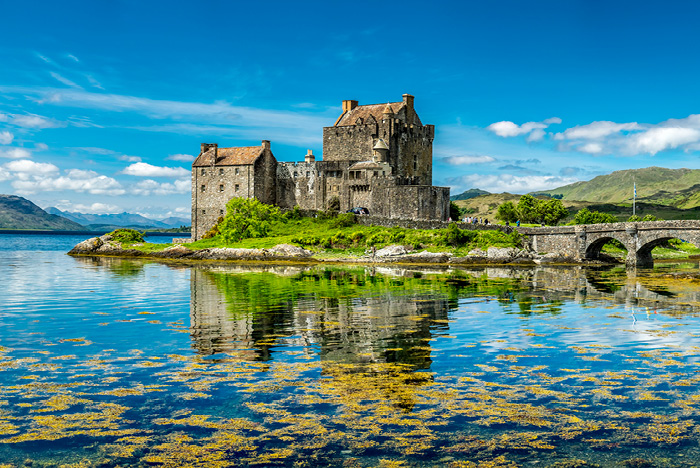 Day 7
Ferry From Armadale To Mallaig, Jacobite Steam Train To Fort William
This morning you will check out of your hotel and meet your driver/guide for a private transfer to Fort William, the largest town in the Highlands which is situated at the southern end of the Great Glen and lies in the shadow of Ben Nevis, Britain's highest mountain. You will catch the morning ferry for the 45-minute journey from Armadale to Mallaig admiring the spectacular scenery as you go. On arrival in Mallaig you will take the Jacobite Steam Train to Fort William where you will meet your driver and continue your journey south via Ballachulish, Glencoe and Loch Lomond to Glasgow, check in at your hotel and the evening is at your leisure.
Jacobite Steam Train:  Described as the greatest railway journey in the world, this 84 mile round trip takes you past a list of impressive extremes. Starting near the highest mountain in Britain, Ben Nevis, it visits Britain's most westerly mainland railway station, Arisaig; passes close by the deepest freshwater loch in Britain, Loch Morar and the shortest river in Britain, River Morar, finally arriving next to the deepest seawater loch in Europe, Loch Nevis! The train stops en route to Mallaig at the village of Glenfinnan (see below). Beyond Glenfinnan are the beautiful villages of Lochailort, Arisaig, Morar and Mallaig. You may alight at Arisaig by request to the guard. From here, on a clear summer's day, you can see the "Small Isles" of Rum, Eigg, Muck, Canna and the southern tip of Skye. The train continues on from here passing Morar and the silvery beaches used in the films "Highlander" and "Local Hero".
Glasgow. Scotland's most populated City sits on the banks of the Clyde and is well known for its excellent shopping, food and nightlife and various tourist attractions and landmarks. Home to Scottish Opera, Scottish Ballet and the National Theatre of Scotland, as well as acclaimed museums and a thriving music scene
Overnight at Blythswood Square Hotel in a Superior King Room inclusive of breakfast.
Blythswood Square Hotel has a very prestigious address dating back to the early 19th century. Overlooking a private garden and the hotel's Georgian townhouses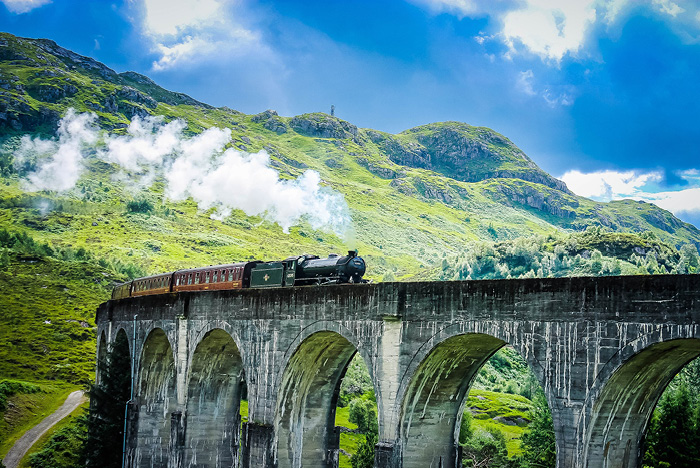 Day 8
Private Departure Transfer Glasgow Airport
After breakfast this morning we include a private transfer to Glasgow Airport. Please be ready in the hotel lobby.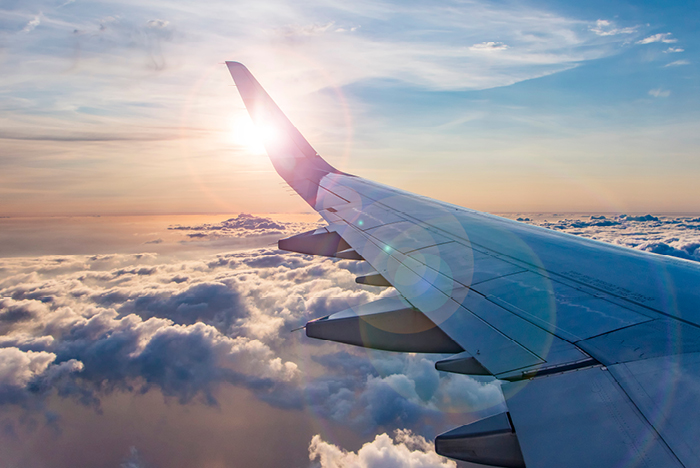 Details
All our suggested tours are created by locals, using years of country knowledge. It's your tour though. That's why any of our itineraries can be tailored to exactly suit your needs. And that might mean fitting it to your budget. Do you have a particular destination in mind, We can include any specific request, so please ask.
The Cost for this Wonderful Private Tour to Scotland, based on 2 Guests sharing a room ranges from UK£6295 - UK£7495 per person sharing.
What is included in your European experience with Luxury European Tours
Hotels: You'll enjoy 7 nights' bed and breakfast in the most sumptuous rooms at the following hotels including breakfast.
| | | | |
| --- | --- | --- | --- |
| Nts | City | Hotel | Accommodation |
| | | | |
| --- | --- | --- | --- |
| 2 | Edinburgh | The Kimpton Charlotte Square | Premium King Room |
| 1 | St. Andrews | Old Course Hotel | Eden King |
| 2 | Inverness | Ness Walk | Cedar King Room |
| 1 | Isle of Sky | Kinloch Lodge | Sea View King Room |
| 1 | Glasgow | Blythswood Square Hotel | Superior King Room |
Driver, Guide and Rail Services
You'll have exclusive use of our professional driver and expert local guide services as stated. You'll be safely returned to the airport on your return. A party of up to two passengers will travel in a luxury saloon vehicle. We'll provide a luxury minivan for three to five passengers. For a larger group, we've got many luxury vehicles to suit your needs.  Where Rail is included its 1st Class all the way!
Transport, Transfers Rail and Experiences Included
| | |
| --- | --- |
| Arrival Transfer Edinburgh | Private Service |
| Full Day to St. Andrews | with Driver/Guide |
| Full Day Edinburgh to Inverness | with Driver/Guide |
| Loch Ness Cruise and Local Sightseeing | with Driver/Guide |
| Full Day to the Isle of Skye | with Driver/Guide |
| Ferry from Armadale to Mallaig | with Driver/Guide |
| Jacobite Steam Train to Fort William | Ticket |
| Departure Transfer Glasgow Airport | Private Service |
| | |
| --- | --- |
| Edinburgh Walking Tour | Private Service |
| Edinburgh Castle | Entrance Fee |
| Glamis Castle | Entrance Fee |
| Private Tasting Flight at The Highland Chocolatier | Private Service |
| Private Loch Ness Cruise (1 Hour) | Private Service |
| Urquhart Castle | Entrance Fee |
| Glenmorangie Distillery Tour & Tasting | Private Service |
| Jacobite Steam Train Trip | Entrance Fee |
We also include hotel taxes and fees, communication costs and the help of our local travel experts throughout your trip; 24/7.
We simply want you to focus on having an incredible time. It's that simple.
What's Not Included
• Your flights to and from Europe
• Gratuities and tips to driver-guides and local guides
• Anything that we've not mentioned above
BOOKING: The proposal is subject to availability and subject to our terms and conditions available on request. To book we require a 30% deposit which is non-refundable as required to pre-book all services.  We accept payments by credit card or by bank transfer. The balance of your trip would be due by 60 days prior to travel.  We strongly suggest taking out travel insurance with your local broker or online provider.
Book
This Tour
Whatever your requirement, simply provide your contact details and we'll be in touch shortly. We can adjust any of the services included to meet your wish list, requirements and your budget.
Custom-Design Your
Own Itinerary
It's a stress-free way to create your magical European adventure with our hospitality experts. We can adjust any of the services included to meet your wish list, requirements and your budget.
Similar tours that might interest you
7 Day Private Tour to England
A Private 10 Day Tour with London, Bath, The Cotswolds and York